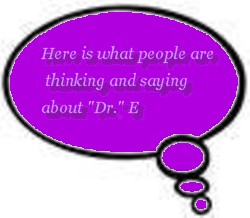 ---
We will search for your special wants too, whether a previously manufactured item, or if we cannot create it within your budget:)


















Here are but a few unsolicited things said about Dr. E of Imaginary Friends!

If you would like to contact references simply e-mail and ask!

At ebay with item #52228163:
"...We have had restoration done by Dr. E (the best in the business!) on Clownie's face to repair some of his age lines (cracks)..."

On the Steiff board at AOL:
"...In any event, how about asking Dr. E? I bet she can save the day!"

On the internet (throughout the years):
"...I can personally vouch for Dr. E - Great, beautiful work and quick too...She is the very best...your teddy bear will thank you forever!"

"...you are in luck, I know of a good Steiff doctor!...I'm sure she can fix your little friend...Check out her web site to view her miraculous work yourself..."

"...You should defiinitely contact "Dr. E". she is an authorized Steiff repair person and will do a great job, reasonably (priced)..."

In e-mails to Dr. E:
"Re: Another fine job...Well, I must say you outdid yourself E! I really never realized that you did MOHAIR weaving. I just thought it was a transplant. The bear is sensational!! AS is everything else!! I just cannot sing your praises enough!!! You are the BEST!! Thanks again for all of the hard work that I know went into this group. I am looking forward to seeing the miracle you perform on the headless one!!..."

"...I am more than quite impressed with the references I received. If you are half as good as they claim I'll be pleased...I will be shipping out to you tomorrow..."
"I have my critters back and am very pleased with them all. I can't praise you enough for the doll's repair...I could gush on and on..."

"Wow! You really out did yourself this time...Again, thanks for a super job..."

"The bear arrived and the smell is gone! Thanks! If you ever need a reference, please feel free to use me."

"Surgeon E, LUTHER looks Faaaaabulous! I was just so excited..."

"Let me just elaborate a bit on my thanks. Gargantua looks perfect and even better than I always remembered him. I must confess to you that when my 9-year old daughter Alexandra unpacked him, I actually wept with joy to see him whole and intact again. Today I took him to the private school at which I teach for inspection and admiration by faculty and students alike. All agreed that he was possibly one of the finest bears they had ever seen and that I was fortunate enough to have found you to repair him so expertly. Thank you so much for "restoring" him to health. If you don't mind, I will refer others to you, should they need your assistance in Steiff repairs..."

We also do appraisals and here is what they are saying about those:
"...Thank you so much! This is a wonderful appraisal!..."
"...I am so glad I found you; almost let them go for much less then their true value..."
"Thank you for the appraisal. I am sure my insurance company will be pleased with the extensive research with references and pictures too..."
"...I am not planning on selling but really appreciate your explaining how market often differs from replacement value..."|
If you'd like more I have a whole mailbox full :)!!!!!!!






Here is some additional info about "Dr." E
A Steiff authorized restorationist.
Additionally, working on other makes of stuffed toys and related collectibles!
Offering appraisals starting around $20 for a "super-informal".
Listed with the ASA as an independent appraiser.
Below are some "things people are saying about "Dr." E. But we can send you as many references as you'd like if this is not enough :)
Before and after pictures are listed on the site but hundreds more can be sent if needed!
Collecting Steiff and other stuffed for some 40 years!
"Dr." E's collection of Steiff and other stuffies numbers in the hundreds.
We have an extensive collectible reference library.
Been doing repair, restoration, and preservation for about 20+ years.
Became authorized by Steiff in 1998 (listed at Steiff too!)
A member of several professional organizations, and have been written up in most of the collectible magazines, & New York Times, etc.
We constantly shop the auctions etc. To acquire vintage fabrics, and other items you may be looking for
Voted top 30 sites at Bear World
and more...



---
Brief bit of bio info: I (E.) started collecting stuffed toys when I was very little...
-I could not have real animals since my Dad had very bad allergies.
I was an only child too, for 11 years, so my stuffed toy animal, imaginary friends meant a lot to me and came alive in my mind! Each with it's own personality and cuddle/hug quotient!
So I personally understand how much these toys can mean to you! It lead me to my career!
More;
E. Started working in the antique field some 35 years ago, and still can also:
Cane and rush chairs, do inlay work, and do some other creative work too ie; various custom painting, walking sticks, jewelry, embellish clothing, etc....Just talk to us on your needs and wants!

VOICES=We offer expert repair (and if need be replacement) of squeeze, tilt, weighted, pull and other types of growlers/voices. I do prefer to restore the original if possible!

SPECIALTY EYES, ETC.=Paperweight open/close eyes and electric eye bears can be restored too! I can custom paint eyes too!

RUBBER/VINYL=Steiff knomes, clowns and others, and toys like Zippy the chimp often deteriorate on the rubber/vinyl parts. E. has devised a method for restoring even the worst damage/deterioration, and can also sometimes locate hands, feet, etc., to replace if preferred!

I Make soft and hard sculptures-animals being my passion -and I can make a stuffie of your pet or your dream creation (from a pic).

I am convinced! I want a restoration, an appraisal, or something made or found! Take me to the page with
the mailing address (and more!)...
I just want to talk to Dr. E by e-mail (-OR-phone: 303-761-7234)